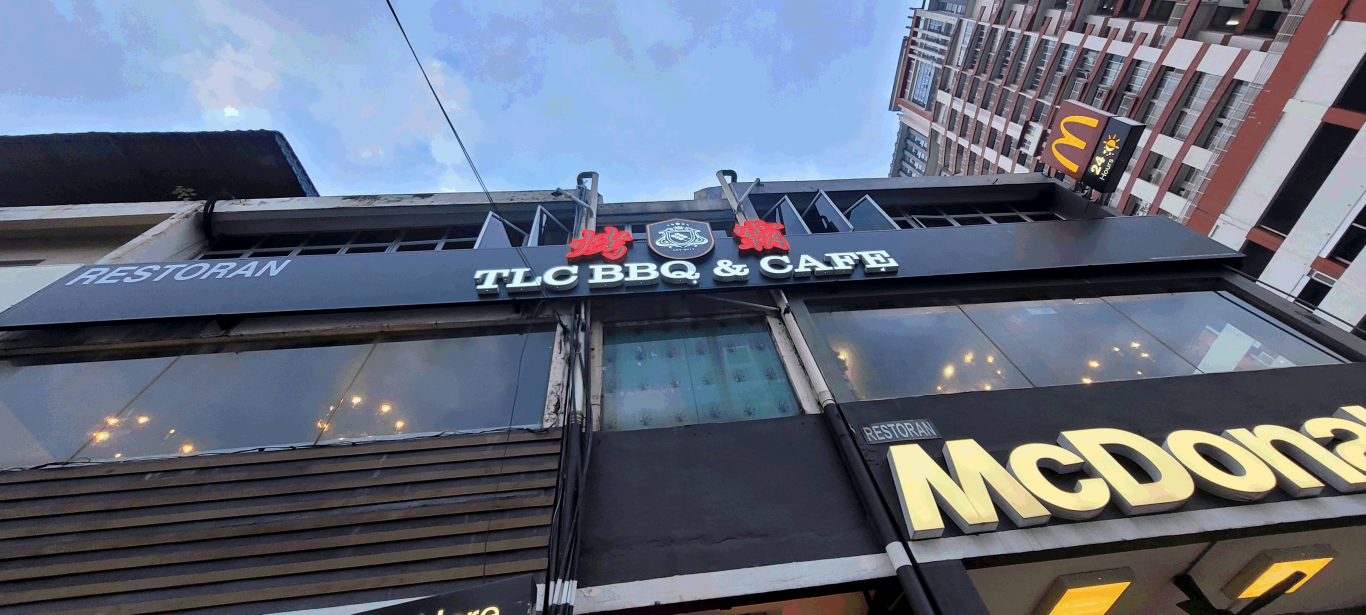 [modify below]
Are you craving tempting good barbecue? Have a look at TLC BBQ in SS15, Subang! This humble eatery is located above McDonalds SS15, Subang and is a haven for meat lovers, serving up some of the juiciest and most flavorful grilled meats around.
Walking into TLC BBQ, you'll be greeted with the mouth-watering aroma of sizzling meats on the grill. The atmosphere is laidback and cozy, with simple interior deco and friendly staff. But the real star of the show here is the food. We were a party of 5 and opted for the buffet that night. For more information on prices, you can call TLC BBQ or check out their website below.
One of their uniqueness is the use of a continuous rolling grill on each table that can easily accommodate a few skewers. All the meats served are placed in skewers which actually allows the diners to enjoy small portions of the meats available rather than having a large portion.
And oh boy, were there plenty of varieties to choose from … chicken, beef, pork, lamb etc. The buffet also came with a dual flavor hotpot which we enjoyed in contrast to the bbq flavors of the skewered meat.
The pork served is a melt-in-your-mouth seasoned with a blend of spices and grilled to perfection. The result is a flavorful and juicy meat that's sure to satisfy your cravings. Seafood and vege dishes are also available.
But TLC BBQ is not just about the meats – they also serve up delicious sides and desserts such as the DIY ice kacang machine with the usual condiments of ice, sweet sauces and garnishings as well as ice creams.
And let's not forget about the drinks. TLC BBQ offers a variety of refreshing beverages to quench your thirst. Their signature plum juice is a standout, with a zesty and refreshing taste that's perfect for cutting through the richness of the meats. We also ordered a few jugs of chrysanthemum tea. There are also alcohol served like soju if you prefer to be merry and happy.
Overall, TLC BBQ is a great visit for any meat lover in Subang. The food is delicious and the atmosphere is cozy. Don't hesitate to stop by and indulge in some mouth-watering barbecue!
Google info :
Address : No. 82-1 & 84, 1, Jalan SS15/4D, Ss 15, 47500 Subang Jaya, Selangor
Website : tlcbbqgroup.com
Business hours :
| | |
| --- | --- |
| Monday | 5 pm–1 am |
| Tuesday | 5 pm–1 am |
| Wednesday | 5 pm–1 am |
| Thursday | 5 pm–1 am |
| Friday | 5 pm–1 am |
| Saturday | 12:30–3 pm, 5 pm–1 am |
| Sunday | 12:30–3 pm, 5 pm–1 am |
Gallery :