One of the most exciting movies to be out in 2021 and I don't think it disappoints.
The film is an interesting origins like story of Natasha Romanoff and her family.
Its action packed, family oriented plot resembles more of a typical Disney mood rather than a Marvel non stop, action laced detached manner.
The story begins with a very young Natasha and her sister (Yelena), who are playing together in a playground with their mom. Amidst the bio-luminescence of the forest, we are eventually introduced to the small family in a dinner setting.
The plot eventually becomes more active with the father returning from work and looking anxious. Natasha's father, Alexei arrives back home and Melina, Natasha's mom becomes concerned and realizes it is time the family made their move and journey back to their homeland.
It turns out the whole family was a front for a spy scheme to steal US SHIELD intel. They managed to escape with the intel and both Natasha and Yelena is sent to the Red Room for training.
General Dreykov is the mastermind of the Red Room and protagonist of this movie.
Years passed after the events of the Avengers, the scene switches to a rooftop where a group of black widows are preparing to complete their mission. However, due to accidental circumstances, Yelena gets freed of mind control after a gas is released. She manages to get all the vials of gas and goes on the run, hoping to be able to free the rest of the black widows from mind control.
Natasha is also on the run. She is hiding in Norway and would have continue living secluded until her sister, Yelena sends her a package containing the vials.


Another villain, Taskmaster (played by Olga Kurylenko) goes after Natasha for the vials and mimics her fighting ability. Fortunately, Natasha escapes and goes to Budapest where she reunites with her sister. There, they are attacked by a group of black widows but manages to escape.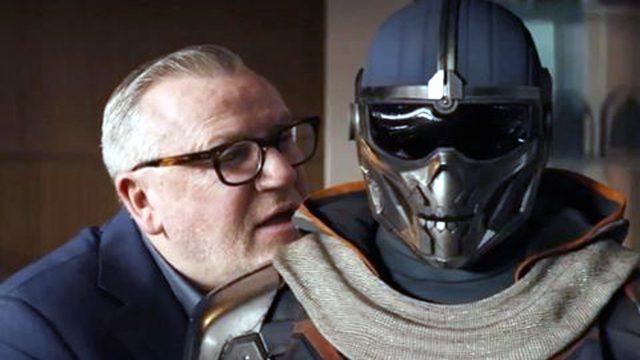 Mason, the supplier of never ending weapons and equipments to Natasha (maybe a little love crush there ?) provides them with a helicopter which they use to break Alexei out of a Russian prison.
Alexei then brings Natasha and Yelena to find their 'mother', Melina who lives in a farm outside of St. Petersburg. There we learn that Melina is the one who came up with the mind control process and silently alerted the General Dreykov.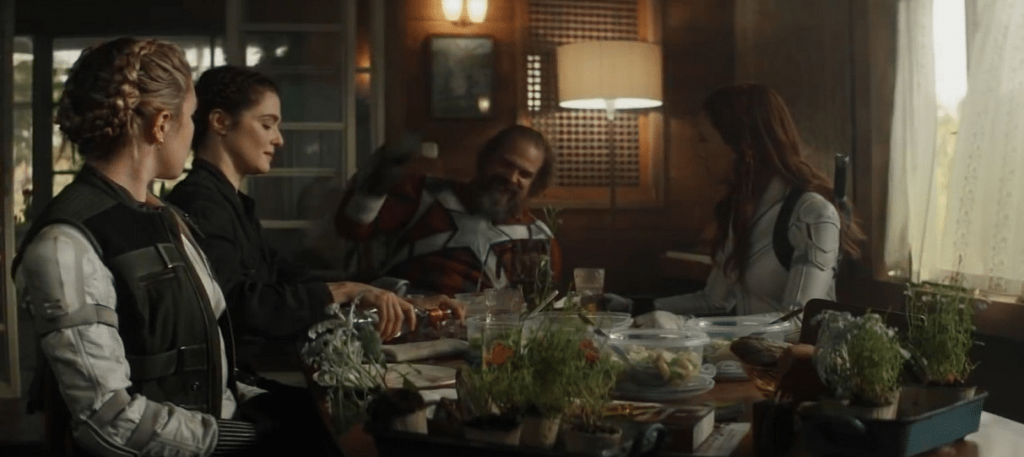 Alexei, Natasha, Yelena and Melina are brought aboard the Red Room which is a floating in the air facility.
In a twist of scene, Melina turns out to be Natasha and vice versa. Natasha uses the opportunity to confront General Dreykov but it turns out there is one secret that Natasha didn't know about. Dreykov uses this to control her and almost breaks her until Natasha breaks her own nose to nullify the mind control and shutdown the mind control machine operated by Dreykov.
This ensues in the black widows being called into deal with Natasha.
At the same time, Yelena tries to find away to release the antidote and free the black widows. She does it on time and Natasha and the other black widows escape.
Alexei is also dealing with Taskmaster and manages to subdue her.
Yelena then manages to kill Dreykov as he is escaping in an aircraft but is flung out into the air. Natasha jumps from the Red Room and rescues Yelena before battling Taskmaster on the ground.
In the end, the Taskmaster is also awakened from mind control and groups up with the other black widows.
The entire family is reunited once more (Alexei, Melina, Natasha and Yelena) and the movie ends.

In summary, an entertaining movie to spend the time on if you are fans of action and the MCU (Marvel Cinematic Universe).
Stars of the show :
Scarlett Johansson
Florence Pugh
David Harbour
O-T Fagbenle
Olga Kurylenko
William Hurt
Ray Winstone
Rachel Weisz